I know you are thinking, "How can I reach more people when I'm exhausted with the client load I have now!". Or you are thinking, "I can't consult with people outside of my state unless I get licensed everywhere." Or you are thinking, "I work individually with clients — how can one program fit everybody?"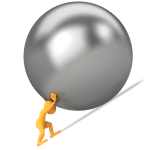 Problem #1: You Are Exhausted with Your Current Client Load
Unless you are on a retainer that is not tied to a time frame, you only get paid for the hours you actually work. And constantly adding more clients is exhausting. No one ever pays you while you are sleeping, on vacation or if you are sick. That includes your current clients. That's because you have to be there in order to coach or train them, right? Actually, no. It doesn't have to be that way…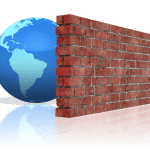 Problem #2: Bound by Local Restrictions
You may be linked to your local community due to licensing restrictions, office location, circle of influence or even your current clients. Local clients tend to refer … well, local clients. What about all those other people around the world who would benefit from your expertise? They currently have no way to work with you but that can all change quite easily and without any additional pressure or stress.
Problem #3: Working One-on-One
Why is one-on-one a problem? Are you trading hours for dollars? If you are stuck in the one-to-one or one-to-few training model, you are. That means that once the hours in your day are booked, you have no way to make more money so your business stalls unless you raise your rates. You may be tailoring your coaching to each client, but I have a solution for you that opens the door to unlimited revenue.
The Solution is Digital Coaching Delivered Inside a Membership Site
Just imagine taking what you are already teaching and delivering it over the Internet to anyone, anywhere in the world and at any time of the day or night. You create the content once and deliver over and over again — on autopilot. In a nutshell this is what digital coaching is all about.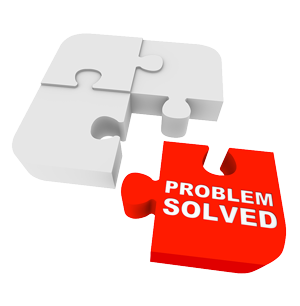 Problem of overload and exhaustion SOLVED: The beauty of digital coaching is that it can be sold and delivered on full auto pilot. With the right membership site software, it continues to run without you touching it. That means your clients can purchase and receive your expert coaching any time of the day or night, all around the globe.
Every step of the process from payment acceptance to delivery is automated with easy-to-use membership software. It is literally a "set it and forget it" system and you don't have to do it yourself if you don't want to.
Problem of local restrictions SOLVED: Because your sessions are in digital form, they can be downloaded, viewed or listened to over the web by anyone anywhere in the world. You can educate or train people outside your local region the same way you would in a seminar, book or white paper.
Problem of one-on-one SOLVED: This system works on a one-to-many basis: you are the one and you're delivering your expertise to many instead of a mere few.  Training events, sessions, webinars, teleclasses and other coaching formats can easily be worked in.  Additionally, you can distribute any supporting materials your clients will need such as formulas, checklists, speech transcripts, articles, books you've written or interviews you've done. It's all perfect for digital coaching.
Why Should You Trust Me?
My name is Christine Cobb. I spent about 30 years in a consulting-type profession in the financial services industry, so I know what your life is like. During several of those years I was chained to a position where revenue came in strictly based on hourly billing. I can empathize with the long hours you put in with only the rare vacation now and then.
However, after retiring from that career, I stumbled into the world of online marketing and discovered the amazing power of digital coaching. Wow! I wish I had known about this years ago! As I started researching and testing the various ways to set up and create a digital coaching membership system, it led me to new, revolutionary ways to do business online.
Now you can get the results of my experience together in a multimedia program that teaches you precisely how digital coaching is done and which membership site tools are easiest to use. You'll be able to completely replicate my success because you'll be using the techniques, software and shortcuts that I discovered and use today in my own digital coaching business.
By implementing this very strategy, I turned a brand new site, Online Copywriting 101,  from zero sales to thousands of dollars in sales within the first full year.
Deliver Digital Coaching – The Secret to Delivering Your Expertise to Thousands is a step-by-step program starting with brainstorming your material and going through the entire process of setting up the sales and delivery systems.
6 Illustrated step-by-step ebooks
29 to-the-point videos looking over my shoulder
I reveal all my secrets for building the most lucrative membership system
Work at your own pace or discover how to get others to do the work for you
I'll answer your questions as you go along
By the time you finish this course, you will have a new profit center for your business; one that works 24/7 without the hours of work you are used to. In addition, it will be a great referral source as many of your digital coaching customers will want to work with you further.
Not a Techy? No Problem!
These Easy-to-Follow Steps Break Down the Geek Speak into Language Everyone Can Understand

If They Can Do It, So Can You
I literally shuttered at the thought. I physically shivered every time I considered learning Digital Access Pass (DAP) or how to edit videos or setting up PayPal so I could run my own coaching course and affiliate program. I wanted the flexibility that all these things offered, but I was almost afraid of them. You know me... little miss non-tech. 🙂 I didn't think I could handle it. Until I started working with you, Christine.

I didn't want to have to depend on other people to do stuff for me. Not only is it a pain to wait for somebody to work you into their schedule, but it's also expensive to farm out all this work long-term. But I really wondered if trying to shove this much training into my brain at one time would cause it to explode.

Baby steps. That was the answer you gave me via your Deliver Digital Coaching system. And you know what? I discovered that learning all this stuff doesn't have to be an exercise in high-tech mumbo jumbo. When I took things a bit at the time in the easy steps you laid out in your program, I was perfectly fine. When I needed to learn something, it only took a few minutes of virtually looking over your shoulder with you showing me exactly what to do and the fog was lifted. And guess what? DAP isn't scary after all!!

If I have to perform some task that I haven't done in a while, I can go back and watch the quickie tutorials you offer. These are great reminders that can refresh my memory in a few short minutes.

What a concept! Learning technical stuff in a non-technical way. Now I have my own online video-based copywriting course with all kinds of super cool features. I operate my own affiliate program and make my own terms/conditions without being dictated to by Clickbank, 2Checkout or anyone else. I have complete control and am so proud of myself for everything I've learned from you. THANKS!

Karon Thackston
Step By Step Copywriting Course
Christine Cobb is the most knowledgeable Internet marketer that out performs anyone else I have compared. Her background as an owner of her own CPA firm and CFO of a major entrepreneurial money management firm gives her the experience to exceed her client's expectations. This enables her to think outside the box because of her in-depth knowledge of the business world.

Gayle Hood

Padre Elite Team
Need Some Personal Assistance?
You've Got It… and More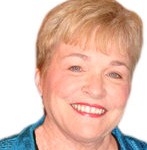 Bonus #1
Personal Q&A. Just you and me for 30 minutes. I'll help you brainstorm your project or answer technical questions.
Value $170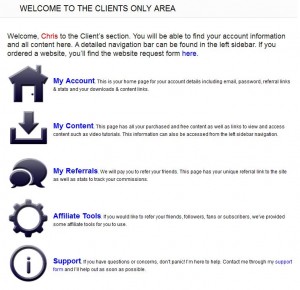 Bonus #2 Done-for-You Client Area Page: Just upload the images, and cut and paste the text into your client area page. The secret to a positive client experience is to make it easy for them to find their content and their account information. This bonus will save you hours of time building this valuable page. Value $100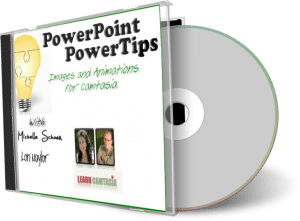 Bonus #3 PowerPoint Power Tips: Create more engaging presentations with 4 hours of tutorials. Not only will this training improve your next slide show presentation, but it will also help you create awesome digital coaching videos as well. Value $47
Let's Add it Up…
6 Illustrated Tutorial eBooks
29 How-To Videos
Digital Coaching Mindmap
Resource Guide & Checklists
Bonuses Worth $317
No Risk Guarantee
I want you to be thrilled that you've discovered an innovative new way to grow your business. Sign up today and use the full system for 30 days. If you don't see the value of having an autopilot business model that:
doesn't add to your day-to-day work load
allows you to deliver your expertise to thousands of people
can grow without you working harder
can easily be implemented by you or someone else and
can add substantial profits to your bottom line
just let me know and I'll refund your money.
You have my personal guarantee!


Let's Get Started!
Now's the time to get started. The longer you wait the more money, energy and time you'll lose. Begin building a life-changing business that gives you:
Unlimited revenue
More free time with friends and family
Less stress and greater personal freedom
An impressive business others can only wish for
Deliver Digital Coaching
for one payment of $247
Get Immediate Access

PayPal Account Not Required and
Credit Cards Accepted
I'll see you on the inside,
Christine Cobb
P.S. Who is this program perfect for? If you are a coach, consultant, trainer or someone who teaches others usually on a one-on-one basis or in small groups then I'm about to change your life. You will discover how to deliver your expertise to thousands by using the most effective membership site software.
P.P.S. Are you working long hours and you can't remember when you last took a long relaxing vacation? Has your business growth flat-lined? Deliver Digital Coaching is just the thing that can jump start your business without requiring more long hours. You set up your online coaching program within a membership site once and then let it do the work on autopilot.
Save