Exaggeration? Not hardly! According to Mark Monitor's recent online piracy and counterfeiting report, there are over 50 BILLION visits a year to rogue websites. That's more than Google and more than Wikipeida, Amazon, YouTube and eBay combined!
What are all these people doing at these nasty sites? Downloading digital products and information just like yours. In fact, yours could be listed on one or more of these sites for free download right now without you even knowing it.
The sad truth is, if it isn't already on one of these sites, it will almost certainly be uploaded before too long. Sometimes your products will be shared innocently by people who mistakenly think they have the right to do whatever they want with your ebooks, videos or other documents after they purchase them.
More likely than not, your hard work will be shared maliciously by content pirates who break into your server. These criminals hijack your products in order to sell them themselves and keep all the money. Or they will upload them to rogue sites and be paid every time someone downloads your work.
How Much is Digital Content Theft Costing You?
If you sell a $27 ebook that gets stolen or uploaded to a sharing site and 1,000 copies are given away free, you've lost $27,000!
"So what am I supposed to do? Should I just not create digital products?"
Do not let the thought of cybercrime stop you from creating your information products, digital coaching programs or any other online product! There are steps you can take to make it harder for spammers and thieves to get to your work.
Once they realize your site is secure and your products aren't easy targets, they'll most likely scamper off to find some low-hanging fruit that is easy to steal.
All you have to do is put some extra padlocks on your digital door. Then you can spend more time creating awesome products and less time worrying about these creeps.
But how – exactly – do you do that without spending $1,000s or having to learn complicated and nerve racking processes? And what about customer convenience? You don't want your clients to have to jump through hoops to get your secure content. Is there a way to have it all?
Introducing Digital Content Lockdown
Digital Content Lockdown is designed to answer three questions that all content creators face:
Which digital format(s) should I use?

How do I deliver my ebooks, audios and videos to my customers efficiently?

How do I keep Cyber Thieves from stealing my stuff and/or crashing my system?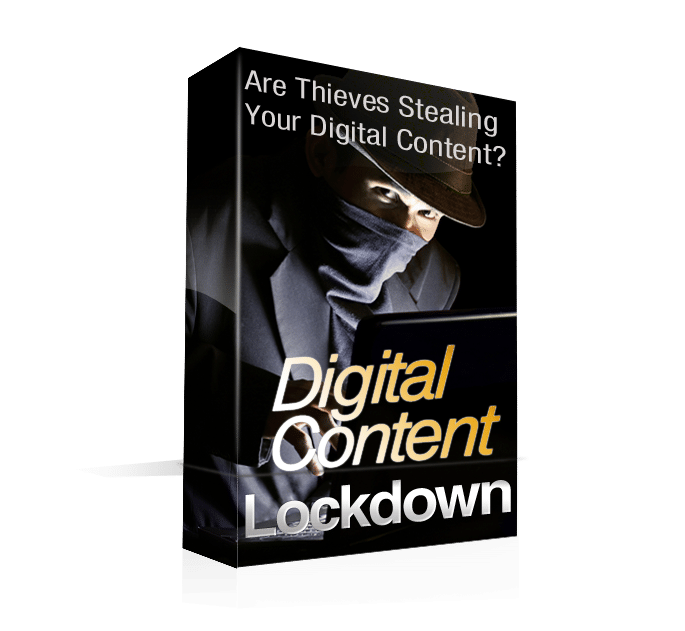 Easy Processes with Step-By-Step Guidance
Walk with me step-by-step to create the most popular content formats and deliver that content so that your customers and prospects can access it quickly and conveniently while Internet thieves are locked out.
As you go through the 20-page illustrated guide you can hop over to the members' area to watch over my shoulder as I demonstrate in 8 video tutorials the various techniques and strategies.
More Than One Way to Solve This Problem
As with many problems, there are multiple solutions and trade-offs to be made. For example you may want an easier solution rather than the most secure solution. You may not want to deprive your customers of the ability to play your audios on their mp3 players just to add more security to your files.
In Digital Content Lockdown you'll see a color-coded rating system to help you make the best decision and find the best solutions for you and your customers and understand how with a slight change, you can improve the security of your delivery system.
You'll discover 4 different methods for delivering text, audio and video information products to your customers.
Why Should You Listen to Me?
My name is Christine Cobb. I have spent the last few years studying and implementing strategies for delivering digital content.
I've also been the victim of cyber robbery.
I was tipped off about my product being freely shared on a rogue file-sharing website. You can imagine my shock when I went there and saw with my own eyes that I could download for free the product that I had spent months developing. It was like someone had broken into my house!
And then the feeling of helplessness washed over me. But I didn't sit back, feeling sorry for myself. I learned what to do next and now I'm going to show you to…
Secure your files.
Get notified about a possible cyber robbery of your stuff.
Fight back!
Be Smart ~ Stay Secure!
Know How To Protect Yourself And Your Hard Work

That's Not All…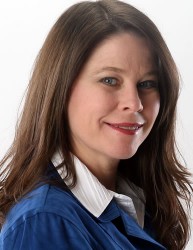 Bonus Video
"Simple Steps for Kicking Hacker Butt!"
In this eye-opening hour-long video with Regina Smola of WP Security Lock, you'll discover how to:
Keep Google from indexing your download pages and copyrighted material
Hide the contents of your website folders from hackers and cyber thieves
See if Google has already indexed your sensitive information
Receive Google notifications when people are sharing your information on the web
Remove your information/products from hacker sites
Know when your user names and passwords have been shared
Value: People gladly pay Regina $250 for an hour of her time!
I want you to be able to make the right decisions regarding how to deliver your digital content. If within 30 days, you don't think it was worth the effort, I want to know. If you don't see the value in knowing:
which digital formats work best for you
how to convert your content into each of the formats that work best on the web
the best ways to deliver your content to your customers
which formats and delivery methods are the most secure and
how you can monitor your products and take action against cyber thieves
just let me know and I'll refund your money.
You have my personal guarantee!


Let's Get Started!
The longer you wait the more money you lose. Now's the time to:
Lock down your digital content
Secure your website
Keep spammers and thieves from stealing your work
I'll see you on the inside,
Christine Cobb
P.S. Who is this critical information perfect for? If you create information products like ebooks, video tutorials, podcasts, digital coaching modules, etc. then you need this information.
P.P.S. Stop guessing which digital formats to use and how to deliver your digital products without falling prey to the Cyber Thieves. Get access to Digital Content Lockdown today and protect your hard work!
Save